Abstract
Two neophyte sea kayakers spend 4 days roughing it in kayaking paradise. Get lots of sun, eat and drink wonderful Mexican food and beer along the way.
Getting there
We flew into Loreto, which is halfway down the eastern side of Baja, they have two flights in and out daily, so luckily we just made our flight in (barely). At the airport, Ben and I had to go through the red light/green light and Ben got the red light and I got the green light. It was the first of many luggage searches we went through - though our backpacks were so difficult to rifle through the rifler usually just gave up. We spent the first night at the Iguana Inn, a pleasant little spot in Loreto. It had only three rooms - and a nice quiet courtyard. Loreto is known as a fishing spot - so about half the people on the plane were grey haired, fat, pink skinned men with t-shirts with either a quip about catcing a fish - or advertising some destination. We got stuck with some of them in a cab and their famous line was "Whatever happens in Loreto, stays in Loreto". I was glad we weren't going to have to run into them again. Though every fat pink skinned man I saw after that - Ben and I would ask the classic line "You down here fishin'?". The beachfront in Loreto isn't spectacular, and many of the waterfront hotels showed extensive damage due to the recent hurricanes. The next morning, we hit a few grocery stores and bought a few days worth of provisions, checked out the curio shops, and looked (unsuccessfully) for fuel for my cannister stove. It looked like we were going to be eating cold, but this didn't turn out to be a big problem because eating cold food was sort of nice in the heat. Though one day we thought we could cook rice by leaving it in the sun (it may have been possible except we picked a spot that went shady pretty early). That night in Loreto, we ate out twice because we were so excited about big beers, ceviche and fish tacos. Then we crashed early after a crazy day of traveling - only to be awoken by the mexican dance music at 3:30am - this was the night before the first day of spring and I guess the Mexicans like to celebrate it (though to me it feels like summer). Sunday morning, we hired a taxi to drive us about 80 miles north to take us up to Playa Escondida, the location of Ecomundo, the "eco-tourist" resort who'd be renting us our kayaks. The taxi cost a bit less than $80, which is pricey, but pretty fast and convenient. The bus can be taken for around $8 per person, but requires a bit more wrangling to get them to let you off at the right beach (hard if your spanish is bad and if you're not really sure where you're going...).
Ecomundo
Ecomundo turned out not to be the "wonderful place" that I had read about in our book. Luckily, we got what turned out to be the bad part of the trip out of the way at the beginning. (Read more about the dirt on Ecomundo at the end of this report, but we'll pass on the negative stuff here.) We spent Sunday afternoon lounging about, and the night in a palapa. We also met an older biker from Arizona, but originally from Illinois - with a thick Chicago accent. He was there with his daughter and they were riding around on his bike. Ben and I wish we were doing that when we were kids. He snuck us some scotch - and we hung out for awhile.
Escape from Ecomundo, or 4 days in Paradise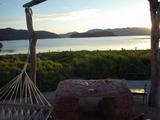 The morning dawned bright and clear (as they would do for most of the trip), and we rented kayaks and headed out to sea. Ben and I were ready to be out on the ocean - two days of traveling and we wanted to be out on the water. Our first stop was Coyote Island, where we checked out a beautiful beach. It was getting hot. Much better in the water (and the shade):
Because the Ecomundo folks were such tightwads with their water, we knew we needed to find somewhere else to fill up, so in the afternoon, we headed back to Playa del Burro (a beach a few miles south of Ecomundo), where we discovered the wonderful Bertha's restaurant. This beach would become the center of our little universe for the next few days, as we developed a familiar pattern: run out of food and water and get generally sick of eating cold beans and tortillas, paddle back to Berthas where we would stuff ourselves on awesome fish tacos, scallop ceviche, and ice cold beer; paddle to beautiful beach, swim, camp, watch sunsets, etc until we ran out of food again... Particularly recommended are the "Ballenas" (translates to "whale" and is a 1 liter sized bottle of icy cold Pacifico, selling for 20 pesos, or under $2 USD). The little shop across the road has the most basic supplies (water, limited canned goods, tortillas, beer). After a tasty meal, restocking the water, and buying out the entire stock of canned beans (two cans), we headed back to Coyote Island for a great sunset: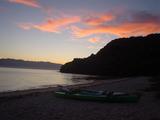 Tuesday morning dawned bright and clear. It's a good idea to get up early and kayak in the mornings, because the sea is still (really still), and you can see gobs of fish in the water, and because it hasn't gotten deadly hot yet:
We paddled around Coyote Island and then pointed or kayaks towards what we ended up calling Shit Island (I think called Guano island, for obvious reasons).
I can't say I found the birds of Shit Island very pleasant company. They basically seem to spend their days yelling, humping, trying to steal each other's food. The horror. Given a chance, they'll probably try to poke your eyes out. Here Sarah is contemplating the ontology of birds. What do they think about when they're eating the carcass of their dead cousin?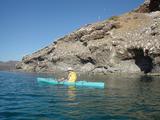 We did however see pods of dolphins - always too far away for us and we always had our eyes peeled for the chance in which they might come visit us. After shit island, We headed back to the shore, to a secluded beach where creepy roy had told us there was a shade of palm trees that was a "honeymoon" spot. When we got there - it appears as if they were making a road (quite a bummer) - and the honeymoon spot appeared to be a permanent residence of the poor guy who had to get up every day and run the tractor. But it was a big, beautiful bay and we found a nice spot at the other end. When we got there, Sarah put me to work cleaning the dishes...
In the morning - we paddled out - and I saw a bed of hachas (a type of clam) and Ben dug one up - they are big and pointy, fairly meaty - and damn hard to dig out of the sand - but the spot was pretty much unknown and in only like three feet of water - so we felt lucky. We paddled back to Berthas where along some shoreline rocks we saw the most amazing fish - big ones and I think I saw a barricuda. Along the rocky undeveloped shores was the best for sea life., restocked, and headed back out to Coyote Island, where our formerly peaceful beach was overrun by a group of 20 highschool kids, so we paddled around the island to another beach, which we had to ourselves:
Thursday was our fourth and last day on the boats. By this point, getting beaten on by the sun was getting to us, and we'd pretty much explored every island (there are about 6 big ones) in the bay. So we slowly made our way back to Ecomundo, stopping along the way to swim and hide out from the sun and dig for scallops. Ben had caught a small fish, he had gotten an hachas, and had dug up a huge butter clam - but the supposed wonderful scallops (that we had been eating) - were hard to find even though the shells were EVERYWHERE. In a last desperate attempt Ben decides to dig a hole in the sand - thinking for some reason that they might be hiding under there..
We'd found all sorts of clams, crabs, fish, etc, but I never managed to find a live scallop, which made me wonder what was in all of those tasty scallop cocktails I was eating.
Mulege
We got back to Ecomundo around 4, dropped off our gear and got the hell out of there. We'd actually paid for one more night of camping, but couldn't bear the thought of staying in Ecomundo after such an incredible trip. It would have just been a downer. So we hitched (easy) up to Mulege, and checked into the Hotel Hacienda for the last two nights of our trip. Mulege is a great little town: friendly people, good shops, great tacos. The walk out to the beach along the estuary is nice, compelete with an over-friendly dog who followed us for the 2 miles. In Mexico, the dogs are the beggers - you feel bad - they waddle into all the restaurants and come sit at your feet. This one dog had followed us all around town to a restaurant where they made him go away. The next day he followed us the four miles (round trip) that we walked to the beach - and in the end (feeling bad for him) I gave him a cracker - and he wasn't interested! It was like he really just wanted to go for a stroll with us! When we got to the beach it was not sheltered like those in Conception Bay, and was a bit rocky:

Back in town, the museum and the mission are nice places to visit. The mission has a great views:

Saturday came too soon, and we headed down to Loreto on the 10:30 (actual departure time, 11:20, a bit scary b/c we had to catch a 2:30 flight). The Mexican buses are quite comfy. This one was showing a dubbed version of Nemo. The road down is curvy. Sit at the front of the bus if you can (Sarah got green with motion sickness and had to go visit the vomitorium in the back of the bus, where the lack of AC and the urine smell will make you throw up even if you're not sick yet)... We made our flight to LA, and better yet, got on an earlier flight to Seattle, avoiding the 5 hour layover. Before we knew it we were arguing with the incompetent taxi driver about the fastest way to get to Beacon hill...
What We Learned
Generally, the open top kayak is great for this kind of trip. The ones we rented had plenty of cargo room, so don't be shy about packing some comfort items. Here are a few things we wish we'd brought or done differently...
Bring a stove that takes unleaded gasoline. This is a hassle with airplanes these days, but it might just mean bringing an unused fuel container and leaving it there when you leave... Having a stove isn't critical, but being able to cook clams and other seafood would be quite a bonus. There is limited driftwood for fires.
Bring your own snorkel/mask/fins: $7/day for these at Ecomundo is highway robbery.
Bug net. We slept in a screenless shelter, which was better than a tent for providing shade (good ventilation), but not good when buggy. The flies did get pretty annoying (mainly in the evening and in the mornings), and a bug net of some sort would be worth it.
Sun screen. Bring lots. Sarah and I went through a jumbo sized bottle in 4 days.
Fishing rod. I brought a handline and caught a small bass. Having a real fishing rod would have been good. Even without though, there is tons of shellfish that can be eaten off of the beaches.
Sleeping pads. We brought half pads, which were ok, but having something more substantial would have helped. Having a little camp stool would be groovy too.
Water. Expect about 4 quarts per person per day. You can buy purified water in a reusable 4-5 liter container at a market. After that, just get it refilled (for pennies) at a purified water shop in any village.
Food. Make sure you really stock up in Loreto (or Mulege) before you start -- particularly with the fresher items, like avacados, limes, onions, etc. These are hard to find at the "shops" along the beaches.
The Dirt on Ecomundo
If we had to do it over again, we probably wouldn't stay at (or even rent from) Ecomundo again. Why? Basically it seems like a nice idea, poorly executed. The guy who runs it (Roy) seems to work on the principle of renting gear to people and then keeping them as close as possible to his resort, so you're stuck living by his rules, eating his food, paying his prices (its like he has been in the sun way too long). And for what he gives you, the prices are just too high. The food at his restaurant is expensive and not very good (small portions, poorly executed). He overcharges for camping -- $8 for a tent spot or $20-$30 for a palapa (straw hut, dirt floor, cots). He doesn't really stock any items that would be useful for a multiday trip. For instance, if I considered myself an outfitter, I might offer provisions (beans, tortillas, rice, etc) for sale to my customers. He's also a tightwad when it comes to water. Yes, water is precious in those parts, but it seems bizarre that the guy can't provide (even for money) sufficient water to head out for an overnight trip. The gear he rents is not in good shape. Yes, saltwater is bad for the fittings on a boat, but I don't get the feeling he really maintained them very well. At around $20/day, you expect to get a decent ride. Overall, I respect the idea of what they are trying to do, but I don't think it needs to mean offering substandard services at unreasonable prices. The other thing that was weird was that in my book it had said Roy and Becky - and we later found out Becky had walked. However, now there was a Thai woman there named Rose. Well, it turns out that he went and got himself a Thai mail order bride and that he had started a little trend with the expats down in Baja. We also heard stories from many other people of Roy not wanting to return anyone's money when they were unhappy with the (overpriced) lodging or the quality of the kayaks. Basically, a beach up from Roy is a place that rent's kayaks - and I guess they are doing it expressly for the purpose of competing with him - as it was easy to tell the locals weren't very fond of him. In a way, it was kind of sad -- you got the feeling that Roy started the place with all the best intentions, but over the years it had just turned into a way to make a buck on well-intentioned tourists. Personally, I'd rather give my money to the locals, where possible.

If we haven't bored you to death already - the rest of the pictures are here: More Pics