Early Morning Spire, SW Face (Sept 18-21, 1997)
Day 1
Left Hidden Lake Peaks trailhead @ 5pm headed towards Marble ck cirque. We were saying we'd climb all sorts of things when we got there. Hiked in cloudy, but improving weather until 7:30. Bivvied on sinewy ridge heading towards Triad. There was lots of fresh snow, and it was a cold night.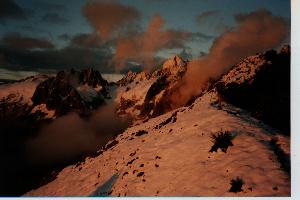 Approach, Evening. Left to right can see Early Morning Spire, Dorado Needle, and the W Face of Eldorado. (climber: Danika)
Day 2
Woke up with bags and gear covered in thick frost. Waited for the sun and dried out. Left camp at 9ish. Due to route finding (even the trail along the ridge was hard to follow in places, due to about 4 inches of fresh snow) and snow covered talus, it took approx 3.5 hours to reach Triad col. To reach the col, look for quartz ramp leading up from the left side. We scrambled to the ramp and followed it up (4th class). We roped up and descended the Triad glacier, which is quite steep in places. Here we were thankful for the fresh snow (up to a foot now), because it covered the hard neve. The glacier was steep in places. Stay left, as Beckey says.

We reached the bottom of the glacier at ~2:30 and lunched on warm slabs, contemplating the beautiful lines that we could choose from: Eldo's W ridge, Dorado's S rige, and the SW face of Early Morning spire. An embarassment of riches. They all looked snowy and intimidating and very very long, with unknown descents on hidden glaciers. We still didn't know what we wanted to climb, but agreed now that we'd be happy to do one nice climb.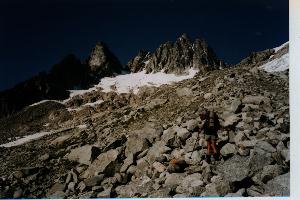 Crossing Marble Ck Cirque. The SW Face of Early Morning Spire is in the sun at the left of the skyline. (climber: Danika)
The opressive remoteness of the place had raised the commitment level to a new level. I couldn't get rid of the butterflies in my stomach. What if the routes didn't dry out? How would we get off the climbs? Were the descents guarded by the large moats and steep, broken glaciers of late season? Did we have enough daylight to climb a 2000-3000 foot route? We talked about how nice it would have been to have a couple more friends along. But that was not to be, and we wouldn't be able to feed off of the illusory, heightened senses of safety and motivation provided by a larger group. We were pretty much alone, pretty much in the middle of nowhere.
Another 2 hours got us to nice bivy just N of the base of the W ridge of Eldo on a big rock hump, just S of the snowfield which extends SW of Dorado col. We had access to snowmelt and commanding views of our objectives, as well as protection from the frequent rockfall off of Eldorado. We decided that we'd make a go of Early morning spire, and spent the late afternoon trying to estimate how much time we'd need, and negotiating a gearlist. Two hours to the climb. Eight hours - let's call it ten to be safe - on the climb. Two hours to get down. We'd be cutting it pretty close, so near to the equinox. The moon wasn't rising until late. Crampons or no? One headlamp or two? Two sweaters or one? Rapline? It weighs 3 pounds, but if we're leaving the crampons... Two rain jackets? The weather looks good, but that forecast was 48 hours old now. We chose one and a hefty bag, We ate dinner, which was comforting, owing to D's genius decision to bring along a stove, but still couldn't settle my nerves. I thought about smoking. The autumn night came too early, as usual, and we lay in our pits, staring at the icy stars, making idle talk.
Total travel time, car to camp: ~10 hours. In better conditions, it might go in 8, although the Triad glacier would be more difficult.
Day 3
I awoke at 5, as per my alarm, to good moonlight. I didn't know if D was awake and didn't ask. I crawled deeper into my sack, daring myself to take what the Germans call a "Nachnickerchen" - literally the "after nap." It was not to be, however, and I told D it was time to go. We lay in our bags, eating leisurely breakfasts, wasting valuable minutes of the dawn. I pulled on my wet, clammy boots. D hung the food, at my bidding, which was silly in retrospect , because I don't even think any mountain rodents live in that lonely place.

We sidled snow and talus at around 6200 ft around the rock ridge coming down from EM spire. The trick is to find the faint path. At one point, as you're turning the ridge, it will head sharply uphill for a few feet. Follow it, we didn't and had to do a steep heather traverse. We headed up the snow gully to the face. Again, fresh snow helped our cause, because we'd left the crampons at camp. As the slope steepened to perhaps 40 degrees and the snow hardened, we headed up to the low point of the snow/face connection. We roped, and D sandwhiched herself into an icy belay in the moat, as I traversed left and up to the base of the climb, climbing the snow/ice crest. The moat widened and would provide me with little opportunity for rest. The ice crest vibrated under my machinations. I chopped the occasional ice horn to place a sling, but they mostly fell off as soon as I passed them. I don't think they would've held anyway, but luckily I didn't find out. I found a good spot in the moat where we could reach the rock, and belayed D up. From a twin ice axe and body-wedged-in-the-moat belay, D started the rock at 9am - an hour behind schedule.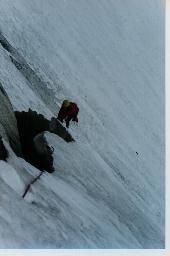 On Early Morning Spire: Climbing steep snow to reach climb. (climber: Danika)
Here's a rough pitch description:
From left of the main crack system, D climbed ~20 feet of hard to protect friction to reach a thin crack (better pro) to gain a dihedral. After ~80 ft, she switched to another crack on the right, leading up to a R trending ramp. Belay more or less in the main crack system. 5.7
Climb up into a dihedral. Can climb directly in (I did) or possibly on flake on the right, ending in a horn. From the horn, continue in dihedral (good hand crack on right wall), either by stemming or lieback. At top, move right (thank-god hold on right face) and out of dihedral, and then up and right to belay, below the start of a finger cack. Wet. 5.8
Climb finger crack (R of main system, which is vegetated), then move right and up to a shelf below the overhang and a belay (vertical wall on left, slab on right). I believe Nelson recommends re-entering the main crack system (it stops being vegetated for a bit) and following it to pass a small overhang on the right side, but we were R of there, as in Beckey, I think. 5.7

On Early Morning Spire: 3rd pitch, below the roof (climber: Danika)

Walk slab 20 feet to overhang, which is climbed on L, via a thin crack and big sloper. Everything was wet, so I aided one move here to reach up to jugs on the wall on the left. Above the overhang, re-enter the main crack system and climb it easily. 5.9 or 5.6/A1.
From belay, climb mid 5th for one pitch. From here look directly up and see the main crack system turn into a left-facing dihedral. Rather than climbing this (est 5.7 and wet) diagonal up and right on easier ground for almost 2 more pitches to reach the R trending ledge system. We simuled (D leading) these ~3 pitches. We had a few route-finding problems here, and D climbed a portion of the main system only to have to downclimb it over a shaky belay. 5.5 a bit of looseness.
D continued leading (more simuling) for ~200 ft to just below a steep dihedral. Snowy, 4th class.
There are actually 2 plausible looking continuations here: a steepish finger-hand crack on left, or a right leaning thin crack dihedral on right. Both are ~30 ft, I chose the left option, which ends in sloping mantle. From a ledge, continue up and R on fun finger traverse over slab to a belay on a block on the crest. 5.7

On Early Morning Spire: Finger traverse to reach summit ridge (climber: Danika)

D led ~1.5 pitches of simul climbing (rope drag problems) on ridge. 5.5 loose.
I led ~1.5 pitches of simul climbing until we got stopped by rope problems again. 5.5 loose.
D led ~2 pitches of simul climbing (ridge less steep here, but snowy). If the ridge is snowy, it's probably better to follow ledge/gully systems under the crest here, and then directly up to summit. The trick to doing the ridge quickly would be to shorten the rope to allow for less draggy simul climbing. Low 5th.
We summited at 5:15 and left at 5:30, fearing the 7:30 sunset. I took a photo of D as she scrambled past the snow covered summit block. Neither of us had any desire to stand atop the thing. Crampons would've saved 1 hour on the approach, and better route beta and smarter simul climbing would've saved 1 hour on the not-very-classic summit ridge.

The descent requires route finding judgement, which we lacked as we were tired and all of your friendly rap slings were covered in a foot of snow. Also, our hazy recollection of Nelson's description was funky. He says to downclimb N and E (along NE ridge), but this was snowy and ended steeply, high above the objective col. In better conditions, this might actually be the correct way to go, b/c it would avoid having to get onto the unnamed glacier N of the spire. After lots of indecision and a bit of arguing, we downclimbed class 4 snowy rock for 80+ feet to rap horn. From here a 150 foot rap allowed us to reach and cross a snow bridge over a rather huge moat onto the N glacier. We then walked NE along glacier and dropped into the col NE of the summit. From here, a bit more arguing (to rap, or not to rap, D was right, another genius decision) and a 150 foot rap down a horribly loose and wet gully (two half raps probably better: less likely to chop ropes or crush skulls or hang rope) got us nearly to the top of the descent glacier SE of the summit. D led 20 feet of steep ice from the gully bottom to reach the glacier at sunset (7:30). Once again, fresh snow was our friend as we zipped down the glacier (a foot of sugar on top of hard neve). I only punched into a slot once, and we were back at camp at last light (8pm). The trick is to stay way left on the glacier, and then take steep snow gullies back to the snowfield adjoining our camp. What a day. What a climb. 14 hours RT. With excellent beta, still budget 12 hours for the RT.

We quenched our thirsts with headache- (and for me, coughing fit-) inducing icewater. In the dark, we ate our last hot dinner, and toasted our day. I felt pretty humbled by the trip, but at least the butterflies were gone.
Day 4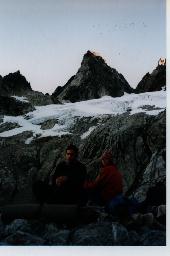 Early Morning Spire, "Team Photo" (Ben and Danika)
After a sardine sandwhich breakfast (D ate hippy food), we left camp at 8:30 and climbed to Dorado col. A few steep ice moves or moat jump gets you off the glacier and into the col. We roped and by 10 started a rising-traverse of the McAllister glacier.
On the McAllister Glacier (climber: Danika)
On the saddle between the McAllister and Inspiration Glaciers (climber: me)
HUGE crevasses and clumsy crevasse jump added to the atmosphere. From the McAllilster - Inspiration saddle saw our first party in 3 days (actually we saw two parties summit Eldo via the E ridge from the spire climb). They either didn't see us or ignored us, which kind of annoyed me, because I was anxious to have someone affirm my existence. I resisted the urge to whoop it up, because I didn't want them thinking something was wrong. We descended to their tracks and traversed the Inspiration at 7800 feet to reach Eldo's E ridge. We paused for me to empty the water from my boots (should've brought gaiters) and ponder the party bumbling its way up the E ridge. From here we zipped SW across the Eldo glacier, reaching the snow below Triad col by 12:30. After a nice, sardine sandwich lunch (Bagel and cream cheese for D), we cruised carward (the snow was mushy now, but the boulder traverses were easier because of the fresh snow was melted off). When crossing the ridge S of Triad, Nelson says to climb the 7200 ft saddle and then drop. Beckey says to traverse at approx 6900 ft. D didn't want to traverse scree, and I didn't want to climb the now-mushy snow, so we raced. Beckey was right, by about 1 minute, although it might have been the sardines. We reached the car in around 3.5 hours from our lunch spot. Total travel time from camp to car was about 8 hours.
So, when headed to Marble ck, is it better to go via Triad col or all the way around Eldo? There's no definitive answer. Under normal late season conditions, going around Eldo is probably less technical, b/c you don't need to descend the steep Triad glacier. It took us longer getting to camp b/c of route-finding issues and snowy conditions. And then of course there's the Eldo ck vs Sibley ck approach question. If you go via Eldo ck, you might shave one hour off your time (Eldo ck also implies taking the route E around Eldo and down via Dorado col, I think, b/c it will save you from the humpy traverses below the Eldo glacier and W of Eldo itself). The Eldo ck method definitely has more climbing, but probably not that much more, due to the ups and downs of the Sibley ck approach. Having done both approaches, and knowing that you're basically going to kill a day on the approach anyway, I prefer the scenic beauty of the Sibley method. For brute efficiency and in late season conditions, I'd take the Eldorado-Dorado col approach, however.
Neither the Nelson nor the Beckey info is optimal for the approach and climb. Beckey is definitely better for the approach (Nelson has a few big holes in his description) and also the climb, although the confusion may be b/c Nelson describes a slight variation of the climb. Both descent descriptions are a bit lacking, but again this may be b/c it's pretty condition dependent.
Rack and gear:
* 10.5 mm rope * 6 mm rap-haul line * Medium/Large Rack 1 set stoppers #2 TCU, Friends 1, 1.5, 2, #1 and #2 camelot. hexes 6,7,8,9 18-20 free biners 4 double slings 8 singles. * Ice axe. * Crampons (we actually only used these once, but not when we actually needed them, the only time being on the way up to the climb...)